Alex Gregory, Mohamed Sbihi, George Nash and Constantine Louloudis laid down a strong marker in their opening Olympic men's four heat here at the Lagoa Rodrigo de Freitas in Brazil.  They built on an early lead to win in 5:55.59 and move into Wednesday's semi-finals.
"I feel like a pressure valve has been released", said Gregory  It's been a lot of waiting but it was good to get the job done".
Nash added: "It was good to get that one under our belts and out of the way".
Helen Glover and Heather Stanning experienced a much tighter affair, coming through a stiff Danish challenge to win their opening heat of the 2016 Olympic regatta in 7:05.05.
The Olympic, World and European Champions saw the danger in the final 250m and needed a powerful flourish at the end to secure the win.
Stanning said:  "The important thing today was to get into the semi-finals and we did that.  It definitely wasn't a bad row but it wasn't an exceptional row either".
Glover added:  "On time and on margin that was a tough race but we have experienced having to dig deeper in other races and in training".
The GB women's eight paced their heat to perfection to break through a New Zealand lead in the final 500m to win and take a place in Sunday's final.  The win was revenge for their defeat to the Kiwis at the season's final world cup.
GB's men followed up with a commanding performance to win their eights heat in 5:34.23 to move straight through to Sunday's final.
"We have put in a lot of hard work over the past two months and I think it's beginning to show", said Pete Reed.
"They are all very, very good crews here. The final is going to be an incredible race", added Paul Bennett.
Will Fletcher and Richard Chambers secured their semi-final slot with second place in their lightweight men's double heat behind South Africa.
Chambers talked on behalf of the crew whilst his crew-mate Will Fletcher was called to anti-doping. "Today was good but not good enough. I know we can do better. We didn't settle as well into our rhythm as we have been doing in training.  It w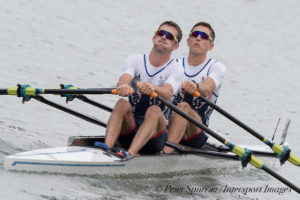 as probably just the excitement of an opening heat at the Olympic Games".
Kat Copeland and Charlotte Taylor did not get the result they wanted today as they were fifth in their heat and now race a repechage of the lightweight women's double scull.
Taylor said: "I guess the disappointing thing is that we haven't shown what we can do.  We need to deconstruct what we have just done and put it all back together again for tomorrow's repechage".
Earlier the GB men's quadruple scull warmed GB hearts as they overcame recent bad luck to reach the Olympic final, taking second place in their repechage. As Jack Beaumont, Sam Townsend, Angus Groom and Peter Lambertcrossed the line there was probably a bit of Graeme Thomas – the man who had to go home ill  – with them as they became the first GB crew to reach a final here in Brazil.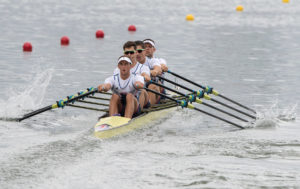 "It hasn't been the ideal preparation but I'm very happy for the three guys behind me in the stroke seat as well as for Charles (Cousins) and Graeme (Thomas) who helped get us here". said Lambert.
John Collins and Jonny Walton were also in much better racing fettle today as they powered into the semis of the open men's double scull with a win in a tensely-contested repechage.
For further information about this report please contact the GB Rowing Team press officer, Caroline Searle, via comms@gbrowingteam.org.uk OR the phone numbers in the contact box below.