A number of Great Britain Cycling Team riders will be in action in Albstadt – representing either their country or their trade teams.
The riders
Fresh from their success at the Commonwealth Games last month, Annie Last and Evie Richards will be competing in Albstadt this weekend.
image: https://www.britishcycling.org.uk/320//zuvvi/media/bc_images/bc_mtb/2018/20180412-commonwealth-games-annie-last-evie-richards-team-england-3000.1523519268.jpg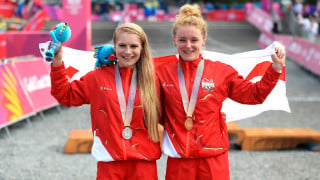 The Gold Coast gold-medallist Last (Team KMC EKOI SR Suntour) will be looking to continue her fine form in the elite women's competition – aiming for her second-ever victory on the world cup circuit.
Richards – who took silver behind Last in Australia – will compete in the women's under-23 race for Trek Factory Racing.
The Malvern rider has happy memories of Albstadt having claimed her maiden world cup win on the South German course twelve months ago.
Two more riders who produced strong Commonwealth Games performances will take to the start line in Albstadt in the under-23 men's race.
Frazer Clacherty (OMX Pro Bike Team) and Cameron Orr – representing Great Britain Cycling Team – both finished in the top ten on the Gold Coast and will be keen to make their mark again this weekend.
They will be joined by Dan Tulett in Great Britain Cycling Team colours – with Emily Wadsworth also representing her country in the under-23 women's race.
Lead coach Simon Watts is relishing the weekend's competition.
"Having enjoyed a historic Commonwealth Games in which Annie and Evie took an England one-two, the mountain bike squad's attention has now turned to the remainder of the world cup season.
"Albstadt has been a regular venue for world cups and has seen very little change to the course layout over the years, so we know what to expect both physically and technically and have been able to prepare accordingly.
"It's an extremely physically challenging course and the weather will play a big part in how technically challenging it will be – if it rains the limestone surface will become slippery to ride on.
"The riders have been building up to this race since the last world cup in March and this, along with the Nove Mesto world cup next weekend, concludes the first half of the 2018 season. The two world cups present a good opportunity for the riders to express their ability ahead of team selection for the world championships."
Image and full details – https://www.britishcycling.org.uk/gbcyclingteam/article/20180516-gb-cyclingteam-news-Race-guide–2018-Mercedes-Benz-UCI-Mountain-Bike-World-Cup–Albstadt-0